Melchiorgarden
Start

Rellingsetra
570 m.a.s.l.

Nonsdalen
950 m.a.s.l.

Middagshesten
1382 m.a.s.l.
The races start and finish in Melchiorgarden. The first kilometer across the river, past Petrines Gjestegiveri (hotel) and up to the kindergarten, is paved and relatively flat.
Just before you reach the kindergarten a hairpin turn to the left takes you through a gate through the fence, and the route shifts to grass and dirt. This section follows an old road in quite a heavy ascent up towards Rellingsetra. After 2.8 km, at an altitude of 300 meters, the route crosses the paved road and continues on the same grass and dirt road towards Rellingsætra (an old summer farm) (570 meters above sea level and 4.2 km).
After the drinking station at Rellingsætra you will continue past the cabins, until you see the ski lodge at Selhaugen (brown lodge at the hilltop). From there you turn left onto the trail running up an old downhill ski slope and significantly steeper. At approximately 700 mas. the route eases a bit through a lighter terrain in birch forest up to Nonsdalen at 950 mas. Here you will run along the last river before the top.  You will need to move a bit off the trail if you want to refill water here.
The route will flatten out gradually until a left turn takes you up the second-steepest section of the route, reaching the plateau at 1200 mas. At the plateau, participants running the shorter race will run over a flat area towards the foot of Middagshesten. Participants running the longest trail race will turn to the right towards the top ridge with a cairn on it, below Skorene. From there, the trail will have a slow elevation and get steeper up the last ridge, past the glacier up to the trail's highest point at 1500mas. This point is called both Små-Skorene and Øvste-Tua.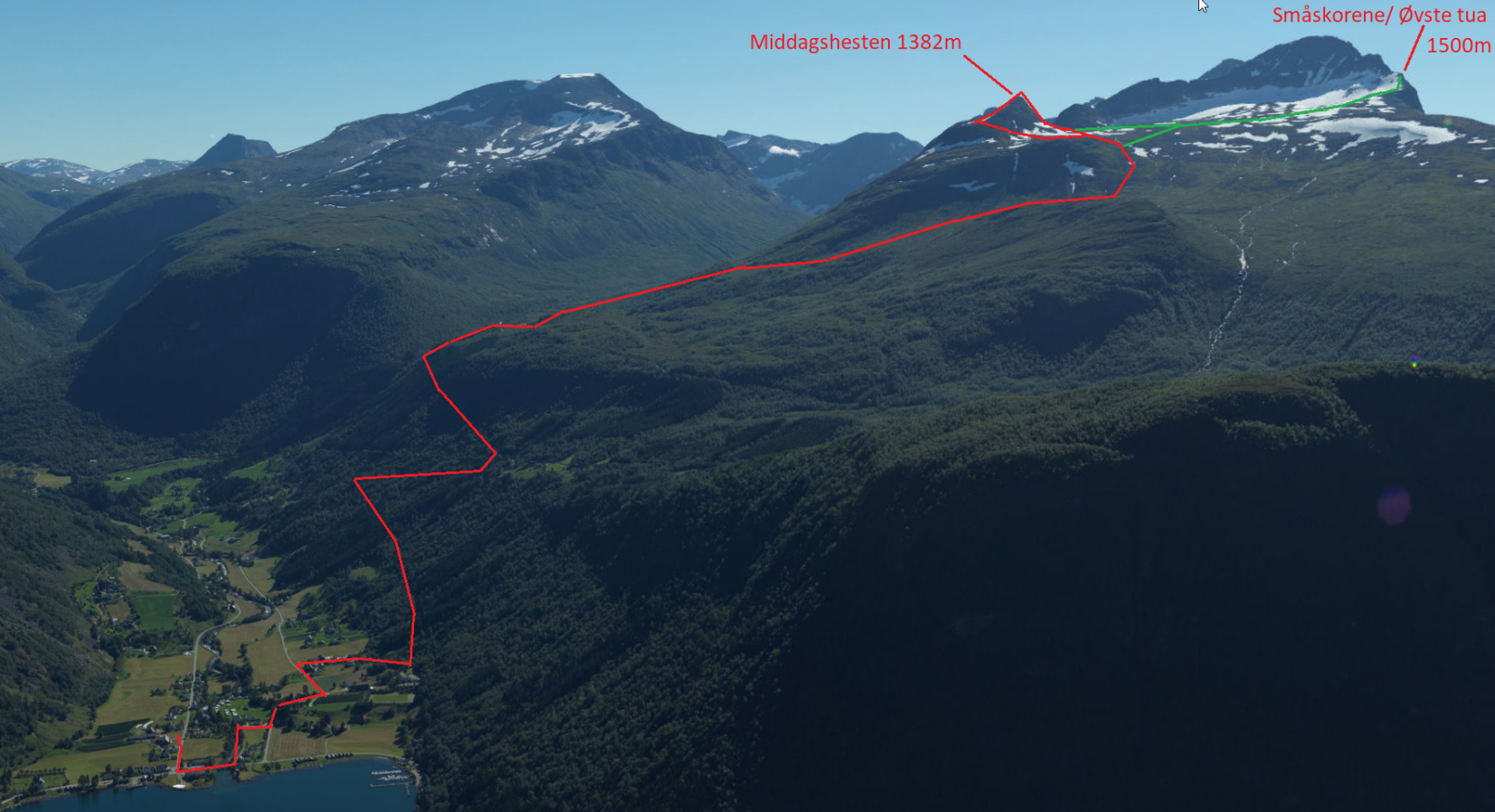 Descend the ridge, around the glacier, and back down towards the foot of Middagshesten. Here, you'll re-enter the same trail as the shorter trail race. At 1200 mas, there will be a partial scramble up moss-covered rocks before you reach the back of the Middagshesten. You pass the highest point at 1,382 mas. and follow the ridge and back down to the north. Here you will get a beautiful view of Norddalsfjorden, before turning left onto the plateau at 1200 mas.
When you've crossed the plateau, you reenter the same route you followed up, back down to Rellingssætra and all the way downhill to Melchiorgarden.